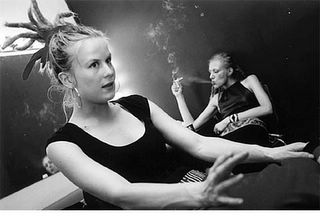 A year or so ago, someone sent me a link to the
Empire Isis
website. Based on the photos, my first reaction was to think of this as the Simple Life, Rastafari style. The description on their website referred to themselves as Miriam "911 aka the emergency line" and Madeleine "the M.A.D. madam". The two dreaded blondies had relocated to Brooklyn from Montreal and Morocco, though they'd supposedly travelled through 25 countries "investigating the untold stories of the underground scenes from Argentina to Canada". Oh, and they insisted in the
Montreal Mirror
that they "represent Africa, Jamaica, and Bedstuy". Pardon me, but give me strength.
The duo have apperently split; Madeleine, the non-joint-puffing girl above (a particularly lovely photo by Rachel Granofsky) seems to be, well, out of the picture at this point. Perhaps she came to her senses. Suffice it to say, on the website, M.A.D. madam has been photoshopped out of the cover of
Hot24Seven
magazine and there's a video that showcases concert and interview footage, carefully edited so as to avoid any glimpse of the girl. Last year they claimed to "speak and cypher" in five languages: Spanish, English, French, Portuguese and Patois, but I suppose the split required Miriam to double up on language duty as this list has expanded to include Arabic and Swahili.
Now, I shouldn't make so much fun, but it's hard to hold back a chuckle when you read stuff like "Isis dedicate this to all those ina yard/ though we know you sufferin' and times is hard /keep your family tight it could never break apart / build a righteous government and get a fresh start" especially when it's coming from girls who, although cute, are more like Paris and Nicole than Sizzla. Sure, their (now her) album, which is set to be released this spring, features appearances by Half Pint, Bushman, and Dean Fraser, but in an industry in which anyone can get a dubplate cut if they simply cough up enough cash, it's tough for me to see this as proof of the street cred Empire Isis so desperately wants.
Maybe I'm wrong. To me they sound like they are trying desperately hard to prove themselves hardcore and the so-called "documentary footage" included in the online video of various reggae artists as well as Sizzla's Judgement Yard and other images of Jamaica looks more like glorified tourist videos. Where non-Jamaican reggae is concerned, Ms. Isis is hardly Zema or Mighty Crown or Gentleman or even Snow. Don't get me started about her/their attempts at reggaeton either. Then again, Empire Isis (the solo artist) is up against Brick&Lace, Mr. Easy, Chuck Fender, and I Wayne for the Most Promising Entertainer Award at the 24th annual International Reggae and World Music Awards to be held this May. I say it is a travesty to put over-the-top attempts at patois against someone like I Wayne, who is one of the most exciting singers to come out of Jamaica in years, but
Fader
magazine thinks that Ms. Miriam-the "Empress Gangstress"-is hot enough to deserve coverage in the next issue-or so the internet chatter tells me.
I know I should show more support-the girl is from my city and she clearly does have some gumption, but there's a whole lot of identity issues going on here. And frankly, the music just doesn't cut it. Period.

Ms. Empire Isis, the solo artist (poor Madeleine was probably in the other half of the picture-can't say I'm not curious to know what happened!)